One mug microwave cupcake topped with whipped cream.
Microwave Mug Cakes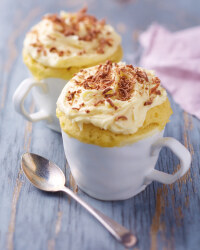 Recipe Information
Ingredients
60g Caster Sugar
60g Self Raising Flour
60g Pure Irish Creamery Butter
1 medium Egg
10ml Milk
1 tsp Vanilla Essence
Method
In a food processor add all the ingredients and blitz for a couple of minutes until combined.
Divide the mixture between 2 cups – allow a little space for the cake to rise slightly.
Put 1 cup in the centre of the microwave and cook for 1 ½ minutes until risen, then carefully remove from the microwave.
Repeat the above step with the other mug.
Allow to cool and decorate with whipped cream or butter icing.