Rich, smooth and indulgent. A perfect dessert for any occasion.
Moser Roth Chocolate Pots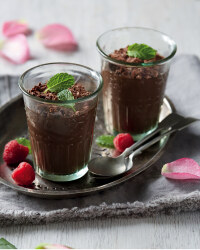 Recipe Information
Ingredients
75g Moser Roth 85% Dark Chocolate
2 Medium Egg Yolks
35g The Pantry Caster Sugar
20ml Napoleon Brandy
150ml Double Cream
Find your ingredients online on Click & Collect or find your nearest store using our Store Finder.
Method
Chop up 2 of the blocks of chocolate and grate the third.
Put the egg yolks and caster sugar into a bowl and with an electric whisk, beat until the mixture is pale and thick.
Put the cream into a small saucepan and slowly bring to the boil.
Pour the boiling cream over the egg mixture and whisk well.
Sprinkle in the chopped chocolate and mix well to melt.
When it's all melted stir in the brandy.
Pour the chocolate mix into 2 pots and allow to cool, then refrigerate.
Serve, sprinkled with the grated chocolate.
Great served with some fresh raspberries.
Due to the risk of salmonella, the consumption of products containing raw eggs is not recommended in pregnancy, for young children, the elderly and other vulnerable groups.