Sucuclent pork leg joint, cooked to perfection in a hearty garlic, onion and cider stock.
Mulled Pork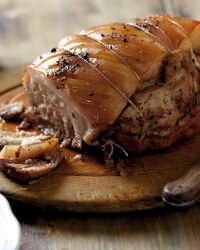 Recipe Information
Ingredients
1.2kg Ashfield Farm British Pork Leg Joint
1 x 440ml Taurus apple cider
1 x teaspoon Stonemills dried thyme
1 x large onion - peeled and sliced
150ml boiling water
1 x Quixo chicken stock cube
3 x cloves garlic - peeled and halved
1 x 200g Bramwells cranberry sauce
Method
Dissolve the stock cube in the boiling water.
Put all the ingredients in the slow cooker, putting the pork on top.
Cook as instructions on your slow cooker.
Approx 5/7 hours on high or 8/10 hours on low.
If you want your sauce thicker, use some Quixo chicken gravy granules to thicken the stock in a saucepan.