A flavourful curry made from leftover lamb.
Nepalese Leftover Lamb Curry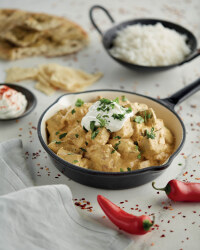 Recipe Information
Ingredients
450g leftover cold Lamb, chopped into small chunks
1 Onion
2 heaped tsp Curry Powder
15g Granulated Sugar
20g Tomato Purée
½ tsp Ground Cinnamon
1 flat tsp Chilli Flakes
Juice of 1 Lemon
1 Vegetable Stock Cube, dissolved in 300ml boiling water
450g Greek Yogurt
50g Ground Almonds
35ml Sunflower Oil
Sea Salt and Black Pepper
Method
Peel, halve and finely chop the onion.
Heat the oil in a large saucepan, on a low heat. Once hot, sauté the onion for 3 minutes.
Add the curry powder, cinnamon and chilli flakes and sauté for a couple of minutes, stirring as you cook.
Add the vegetable stock, sugar, tomato purée and the lemon juice to the saucepan. Season with some salt and plenty of black pepper. Bring to the boil, then simmer with the lid off for 10 minutes.
Add the yogurt and the ground almonds and cook for a further 2 minutes.
Then, add the lamb and gently heat through for 10 minutes.
Serve with rice, naan bread and poppadoms, alongside some mango chutney.