A cheeky, nutty, rum cocktail with peanut butter – best served over ice.
Nuts about rum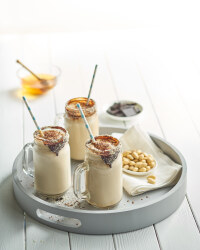 Recipe Information
Ingredients
2 scoops of peanut butter
80ml almond milk
50ml rum
1 tbsp honey
20g milk chocolate (melted)
Cocoa powder to dust
Method
Add all the ingredients into a blender and add a scoop full of ice.
Cover the rim of the glass in chocolate and crushed peanuts.
Pour in the blended cocktail and dust with cocoa.