Golden sourdough rubbed with garlic and topped with tomato and mozzarella.
Open Face Caprese Sandwiches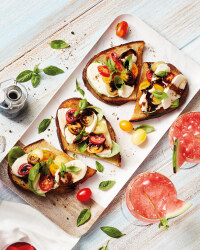 Recipe Information
Ingredients
2 pieces of Sourdough Bread
1 tbsp Olive Oil
1 x Garlic Clove
200g Mixed Baby Plum Tomatoes
240g Italian Mozzarella (1 pack)
Fresh Basil
Pinch of Salt and Pepper
Method
Brush the oil on both pieces of bread.
Heat a large frying pan and cook the bread until golden on both sides.
Slice the tomatoes and mozzarella.
When the toast is cooked, rub the garlic on one side of each piece of bread.
Top the garlic side of the bread with the tomatoes and mozzarella.
Garnish with the basil and season with salt and pepper.
Cut each in half and serve as an open sandwich.