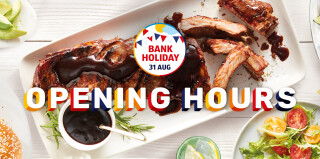 Bank Holiday Opening Hours
Planning a great Bank Holiday weekend? Don't worry, your local Aldi will be open to help you make sure you've got everything you need.
Our UK opening times are below, Scotland opening hours may vary.†
Saturday 29th August: 8am - 10pm
Sunday 30th August: 10am - 4pm
Monday 31st August: 8am - 8pm
† Opening hours may vary depending on store location. Please refer to our store finder to check your local store opening times.
Amazing Recipes
From tasty ideas to go on the barbecue to spectacular salads to refreshing treats for the kids, we've all sorts of great ideas to help you have a brilliant Bank Holiday!