This delicious salad meal is proof that a healthier choice can be a tastier choice too.
Pan Fried Cod Tabbouleh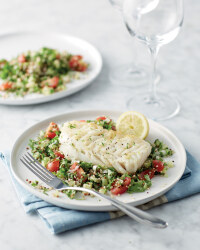 Recipe Information
Ingredients
2 x 280g Pack Cod Loins
2 tbsp Olive Oil
300g Quinoa
Zest and Juice of 1 Lemon
10g Fresh Parsley, finely chopped
10g Fresh Mint, finely chopped
1 Cucumber, diced
3 Spring Onions, finely sliced
250g Cherry Tomatoes, quartered
Salt and Pepper
Method
Cook the quinoa according to pack instructions.
Place the quinoa, cucumber, tomatoes and spring onions into a mixing bowl.
Add the parsley, mint, lemon zest and juice and half the oil.
Mix well and season to taste.
Heat the remaining oil in a pan, season the fish and gently fry over a medium heat for 7-8 minutes, flipping halfway through cooking.
Divide the salad between 4 plates, top each plate with a piece of fish and serve immediately.