Not a fan of normal sprouts at Christmas time? You'll soon be swayed with these Pan - fried sprouts mixed with crispy pancetta.
Pan-Fried Sprouts with Pancetta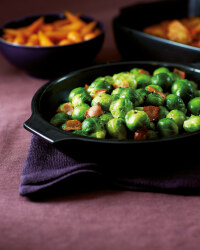 Recipe Information
Ingredients
400g Brussels Sprouts
100g pack Casa Barelli Italian Style Pancetta Chunks
35ml Specially Selected British Cold Pressed Rapeseed Oil
Salt and Pepper
Method
Remove all big leaves from the sprouts.
Slice them lengthways into thin strips.
Put them in a large mixing bowl and pour over some boiling water.
Allow to stand in the water for 5/6 minutes then drain well.
Add the oil to a wok or large frying pan.
Heat the oil for a minute then add the sprouts and pancetta chunks – fry for 10 minutes, stirring as you cook then season and serve