Enjoy a rich taste of the Mediterranean with this wonderful Italian pasta bake.
Pasta Siciliana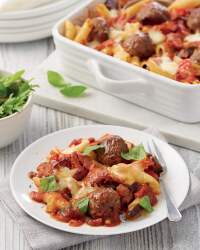 Recipe Information
Ingredients
250g Rigatoni
1 tbsp Olive Oil
1 Red Onion, finely diced
1 Garlic Clove, finely diced
1 pack Beef Meatballs
1 large Aubergine, chopped into 1cm cubes
2 x 400g tins Tomatoes
215g Mozzarella, drained
45g Salami
30 x 25cm Baking Dish
To serve:
Fresh basil
Method
Pre-heat oven to 200°C/400°F/Gas Mark 6.
Cook the pasta according to pack instructions.
Heat the oil in a large saucepan and lightly fry the onion and garlic.
Add the meatballs and cook until browned.
Add the aubergine and cook for a further 2 minutes.
Add the tomatoes, bring to a simmer and cook for 10 minutes.
Drain the pasta and pour into the baking dish.
Tear the salami and mozzarella over the top of the pasta.
Bake for 15 minutes until the cheese has melted and turned golden.
Garnish with fresh basil leaves.