Cosy cups of hot chocolate topped with cream, marshmallows and chocolates.
Pink Hot Chocolate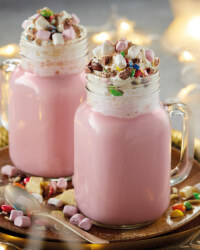 Recipe Information
Ingredients
200g White Chocolate
500ml Whole Milk
1 tsp Red Food Colouring
30g Chocolate Um's
30g Mini Marshmallows
Aerosol Cream
Method
Chop the Choc Um's in half and put to one side.
Chop the white chocolate into small pieces or grate.
Warm the milk in a saucepan until hot - don't boil.
Add the white chocolate and turn the heat down to a simmer - stir through until melted.
Take the pan off the heat, add the food colouring and stir.
Divide between 2 cups or heatproof glasses.
Squirt some cream over the top.
Decorate with the Choc Um's and marshmallows.