Kids will love these easy ham, tomato and cream cheese Pitta Pockets.
Pitta Pockets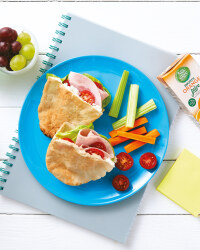 Recipe Information
Ingredients
1 Pitta
1/2 Gem lettuce
2 Ham slices
Cream cheese
3 Cherry tomatoes
Method
Pull the leaves from the gem lettuce and wash them.
Slice the tomato.
Place the pitta in a toaster and cook until golden.
Cut the pitta in half - Be careful, there may be hot steam from the opening.
Use the knife if needed to create a pocket in the pitta.
Spread the cream cheese evenly on the inside of the pitta.
Fill with the ham, tomato and lettuce.