Easy lunchbox idea for soft pitta pockets packed with ham, cream cheese and salad.
Pitta Pockets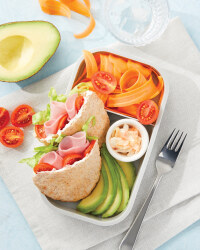 Recipe Information
Ingredients
4 Wholemeal Pittas
½ Iceberg Lettuce
6 Ham Slices
100g Reduced Fat Soft Cheese
150g Baby Plum Tomatoes
Method
Slice the lettuce and wash.
Slice the tomatoes into halves.
Place the pittas into a toaster and cook until golden.
Cut each pitta in half - Be careful, there may be hot steam from the opening.
Use the knife if needed to create a pocket in the pitta.
Spread the cream cheese evenly on the inside of the pitta.
Fill each pitta half with the ham, tomato and lettuce.
Serve with avocado, carrot sticks and a spoonful of coleslaw.