This super-healthy homemade rhubarb granola is a wonderful way to start the day.
Poached Rhubarb Granola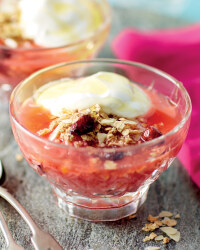 Recipe Information
Ingredients
500g trimmed fresh Rhubarb
1 Orange
60g The Pantry Caster Sugar
150g Everyday Essentials Porridge Oats
25ml Specially Selected Canadian Maple Syrup
½ tsp Stonemill Ground Cinnamon
15ml Specially Selected British Rapeseed Oil
40g The Pantry Flaked Almonds
40g Dried Cranberries
300g Brooklea Greek Yogurt
Grandessa Squeezy Honey to serve
Method
Pre-heat the oven to 170°C/325°F/Gas Mark 3.
In a bowl mix together the oats, maple syrup, rapeseed oil and cinnamon.
Line a baking tray with some paper.
Spread the mixture over the tray and bake in the oven for 15-20 minutes until the mixture is slightly brown and crisp.
Allow to cool then mix in the dried cranberries and almonds.
Wash and chop the rhubarb into medium size chunks.
Put the zest and juice of the orange into a medium-sized saucepan.
Add the caster sugar to the pan and heat gently until the sugar has dissolved.
Add the rhubarb, cover and cook for 5-6 minutes until the rhubarb is tender.
Allow to cool.
Divide the rhubarb between 4 glasses.
Top with the oat mix, then spoon over the yoghurt.
Drizzle with some honey and serve.