A burst of colour, texture and flavour, this sweet and savoury Pomegranate and Pistachio Crostini is a delicious combination.
Pomegranate & Pistachio Crostini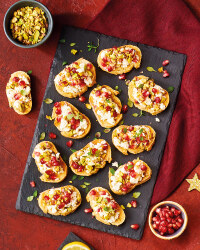 Recipe Information
Ingredients
1 Part Baked Sourdough Baguette
200g Feta Cheese, cubed
100g Pistachios, chopped
80g Pomegranate Seeds
Honey, to drizzle
Black Pepper
Method
Bake the baguette according to the packet instructions. Leave to cool.
Slice into 14-16 rounds.
For a little extra crunch, lightly grill both sides.
Divide the cheese, pistachios and pomegranate seeds between the sourdough slices.
Drizzle with honey, season with black pepper and serve.