Juicy pork, roasted with crisp apples and served with tasty baked potatoes.
Pork Loin & Apple Bake with Jacket Potatoes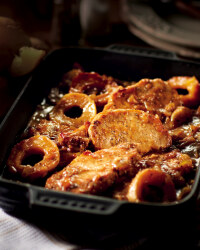 Recipe Information
Ingredients
p>1 x 480g Pack Pork Loin Steaks
140g Bramwells Apple Sauce
1 x Onion
2 x Dessert Apples
30ml Asia Soy Sauce
1 x Quixo Chicken Stock Cube / 200 ml boiling water
1 x teaspoon Trois Lys Dijon Mustard
30 ml The Pantry Lemon Juice
1 x teaspoon Stonemills Dried Sage
A little Solesta Sunflower Oil
1 pack 4 Baking Potatoes
Sea Salt and Black Pepper
Method
Preheat the oven to 200°c/400°f/gas 6.
Prick the potatoes with a fork, rub a little oil over them and season with some sea salt – put in the oven on a baking tray.
Brown the pork loin steaks in a frying pan with a little oil.
Transfer to an oval baking dish.
Peel and chop the onion finely, brown in the frying pan, sprinkle over the pork.
Dissolve the stock cube in the boiling water, add the apple sauce, sage, lemon juice, mustard and soy sauce, season with some black pepper and a little salt, then mix well and pour over the pork.
Core the apples and slice thickly, put in around the pork.
Cover and cook for 60 mins.