Succulent sausages with a rustic twist.
Chef's Tip
Serve hot or cold with the sausages and vegetables. Great with our Specially Selected Pork Sausages
Roasted Sausage Bake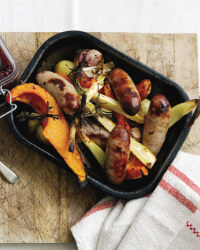 Recipe Information
Ingredients
6 Ultimate British Pork Sausages
3 Cloves Garlic, crushed
Butternut Squash, cut into thin wedges or cubes
5g Rosemary
2 tbsp Olive Oil
450g New Potatoes, halved
2 Large Parsnips, peeled and cut into quarters
1tsp Dried Chilli Flakes (optional)
Berry Jam:
1 tbsp Oil
1 Onion, peeled and finely sliced
2 Pears, peeled, cored and sliced
2 tbsp Cranberry Sauce
2 tbsp Water
150g Blackberries or other seasonal berries
1 tsp Ground Ginger
Find your ingredients online on Click & Collect or find your nearest store using our Store Finder.
Method
Preheat the oven to 190oC/375oF/Gas Mark 5.
In a large roasting pan toss together the sausages, garlic, butternut squash, rosemary, olive oil, new potatoes, parsnips and dried chilli flakes.
Bake in the oven for 40-50 minutes until the sausages are golden brown and the butternut squash is soft.
To make the Berry Jam:
heat the oil in a heavy-based pan, add the onion and cook slowly until softened and browned.
Add the remaining ingredients and cook for a further 5 minutes, stirring as necessary.
Cover the pan and cook, on a reduced heat, for approximately 10 minutes.