Homemade fish burger patty recipe for an alternative BBQ dish.
Salmon & Cod Burgers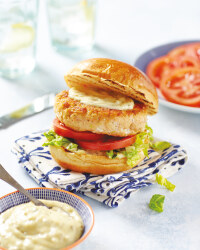 Recipe Information
Ingredients
1 x 250g pack Cod Fillets
1 x 240g pack Boneless Salmon Fillets
2 x sticks Celery – approx 100g
1 x tsp Paprika
1 x tsp Dried Parsley
1 x pack 4 Specially Selected Brioche Burger Buns
2 x large Vine Tomatoes
1 x small Little Gem Lettuce
100g Tartare Sauce
Sea salt and black pepper
Method
Skin the salmon fillets.
Chop the salmon, cod and celery into small pieces.
Put into a food processor along with the paprika and parsley, season with some salt and black pepper and process till you have a fairly smooth mix.
Shape into four rounds patties, flatten with the back of your hand, put on a plate and cover with cling film and refrigerate for about an hour.
Slice the tomatoes.
Shred the lettuce.
Split the buns and BBQ the cut sides for a couple of minutes.
Divide the tartare sauce and spread over the base of the buns.
Divide the lettuce and tomatoes between the buns.
BBQ the burgers for about 3 to 4 minutes on each side.
Sandwich between the stuffed buns and serve.