A warm, easy and delicious tray bake, perfect for family sharing.
Sausage Tray Bake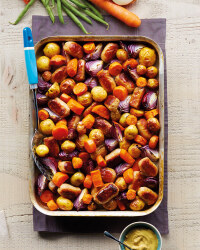 Recipe Information
Ingredients
681g pack Sausages
500g pack Maris Piper
8 Small Red Onions
500g Carrots
50g Olive Oil
Sea Salt and Black Pepper
Method
Pre-heat the oven to 200°C/400°F/Gas Mark 6.
Cut the potatoes in half if big – no need to peel.
Peel the carrots and cut into chunks the same size as the potatoes.
Put the potatoes and carrots into a large baking tray – drizzle over the oil, season with some salt and black pepper and put them into the oven on the top shelf.
Meanwhile, cut the sausages in half and put into a large roasting tray.
Peel and cut the onions into quarters. Scatter these around the sausages. Put them in the oven on the shelf below the vegetables.
Roast for 40 minutes.
Remove from the oven, drain any oil, mix together the vegetables and sausages in a dish and serve alongside your favourite BBQ sauce, tomato ketchup or brown sauce.