Deliciously fruity dessert. Great for cream teas, or even as a particularly fancy breakfast option.
Scones with Double Cream, Jam & Strawberries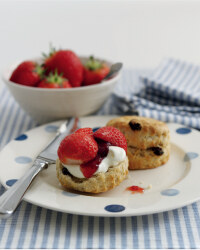 Recipe Information
Ingredients
70g blended butter
450g self-raising flour
70g caster sugar
50g raisins, optional
150ml semi-skimmed milk
Extra milk for glazing the scones
6-7 tbsps strawberry jam
½ pint double cream, very lightly whipped
500g strawberries, washed, hulled and cut in half
Method
Pre-heat the oven to 180°C, gas mark 4.
Carefully rub the butter into the flour, until the mixture resembles fine breadcrumbs.
Next, add the caster sugar and raisins (if you are adding) then mix well but lightly, and then add enough milk to form a soft dough.
Handle gently, and turn out onto a floured surface, knead slightly, then roll out with a rolling pin, to about 2-3 cm thick. Using a plain or fluted 6cm cutter, cut out 10 scones, there will be a little mixture left, re-roll and cut out two further scones.
Place on a parchment lined baking tray and leave to rise for 10 minutes.
When ready, brush each one with a little milk and bake in the pre-heated oven for 15 minutes or so until well browned and risen, then remove from the oven and cool.
To serve, cut each scone in half, place ½ tbsp of jam onto each half and then top with cream and finally two halves of strawberry.
Top Tips
Leaving the scones to rest slightly will give you a lighter end result.
Raspberries and blueberries also work well.
The quicker you cook the scones, the softer the end result.
Raisins are an optional extra; personally I love them in scones.
Once cooked and cooled, keep in an airtight bag or container to keep them soft and fresh.