Layers of spirit-soaked Madeira cake, custard, whipped cream, berries and almonds.
Scottish Traditional Tipsy Laird Trifle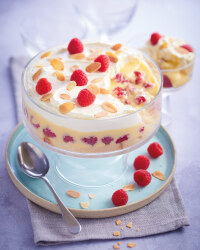 Recipe Information
Ingredients
1 x 280g pack Madeira Cake
280g fresh Raspberries
110ml Whisky
500ml Ready Made Custard
500ml Scottish Double Cream
15g Flaked Toasted Almonds
Method
Slice the cake into thick slices.
Line the bottom of a large glass bowl with the slices.
Keep a few raspberries back for decoration, then put the rest in a layer over the sponge.
Drizzle over the whisky.
Spoon over the custard.
Whip the cream and pipe or spoon over the custard.
Decorate the top with flaked almonds and the remaining raspberries.