Sweet Prosecco and raspberry cocktail garnished with apple slices.
Shooting Star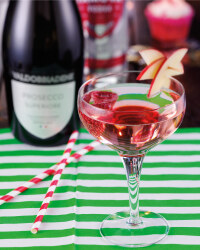 Recipe Information
Method
Defrost half a pack of raspberries and sprinkle with sugar.
Squeeze the juice from the raspberries and collect in the bottom of the glass.
Add 25ml of Tamova Vodka and stir to combine.
Gently pour the Prosecco over a spoon into the glass, then add the three frozen raspberries and apple slices to garnish.