This deliciously hearty Mexican classic is sure to be a hit for family meals.
Simple Slow Cooker Chilli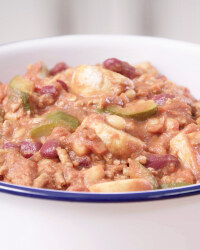 Recipe Information
Ingredients
500g Mince
2 Courgettes
1 Onion
10 Mushrooms
3 Carrots
1 can of Red Kidney Beans
1 can of Corale Baked Beans
Chilli Mix
Method
Pop 500g of mince, two courgettes, one onion, 10 mushrooms, three carrots, one can of red kidney beans, one can of baked beans and chilli mix into a slow cooker.
Make in the morning and leave until you come home, you can then dish up some for that evening and pop the rest into containers for the rest of the week!