Sensational salmon baked in a soy sauce.
Soy Baked Salmon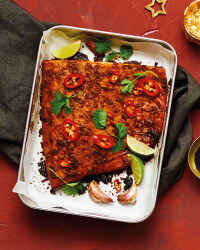 Recipe Information
Ingredients
500g Side of Salmon
2 Garlic Cloves, minced
50ml Dark Soy Sauce
Juice of 1 Lime
12g Fresh Ginger, peeled and grated
1 tsp Paprika
½ tsp Chilli Powder
6g Fresh Coriander, chopped
Method
Put the garlic and ginger in a bowl, then add soy sauce, lime juice, paprika and chilli powder and mix together.
Place the salmon in a roasting dish, pour over the soy marinade and refrigerate for 30 minutes.
Pre-heat the oven to 200°C/Gas Mark 6.
Bake the salmon, uncovered, on the top shelf for 20 minutes.
Serve, topped with the chopped coriander.