Spiced rum cocktail recipe made with lime juice, honey, mint leaves and prosecco.
Spiced Honey Cocktail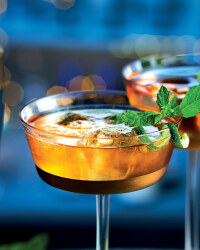 Recipe Information
Ingredients
For the cocktail:
70ml Sea Dog Rum
½ Fresh Lime, juiced
¼ tsp Honey
Mint Leaves
Prosecco
Ice Cubes
To garnish:
Mint Leaves
Ice Cubes
Method
Put the rum, lime juice and honey, along with most of the mint leaves and ice cubes, into a cocktail shaker, and shake well.
Strain and pour into a coupe Champagne glass.
Top with Prosecco, a couple of ice cubes and fresh mint leaves.