Blackberry gin liqueur over ice, apple and lemon juice, a little plum and apple chutney.
Spiced Plum Martini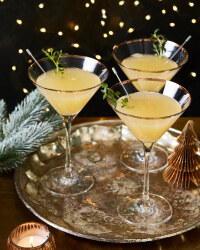 Recipe Information
Ingredients
50ml The Infusionist Snow Globe Blackberry Gin Liqueur
35ml Cloudy Apple Juice
15ml Lemon Juice
¼ tsp Specially Selected Plum and Apple Chutney
To Garnish:
Sprig of Thyme
Method
Shake all the ingredients in an ice-filled shaker.
Fine-strain the liquid into a martini glass using a tea strainer.
Garnish with a sprig of thyme.