A deliciously savoury gift for your foodie friends to enjoy with festive cheese or meats.
Spicy Red Pepper Jam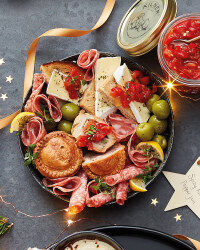 Recipe Information
Ingredients
3 Red Peppers
255g Sweet Vine Ripened Tomatoes
1 Onion
3 Garlic Cloves
2 Red Chillies
230ml Distilled Vinegar
125g Granulated White Sugar
75g Brown Sugar
½ tsp Salt
½ tsp Black Pepper
Method
Roughly chop the red peppers, tomatoes, onion, garlic and chillies. If you don't want the jam too spicy, remove the seeds from the chillies.
Place all the ingredients into a large pan and bring to a boil. Reduce to a simmer and cook until thick and syrupy (about 45 minutes). The jam will thicken as it cools, it can then be stored in clean jars in the refrigerator for up to one month. Serve with cheese or meats.