A delicious combination of feta and ricotta cheese with tasty sea bream.
Spinach and Ricotta Stuffed Sea Bream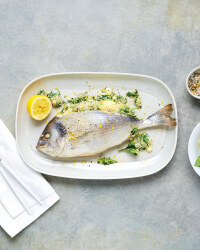 Recipe Information
Ingredients
Sea Salt
Freshly Ground Black Pepper
Extra virgin olive oil
1 Large Egg
120g Feta Cheese
120g Ricotta Cheese
100g Breadcrumbs
250g Spinach
1 Lemon
Method
Slice open the fish and drizzle with olive oil and season with sea salt and freshly ground black pepper.
Beat the egg with the ricotta cheese until smooth. Crumble the feta cheese and add the spinach with a sprinkle of salt and pepper. Continue to mix until satisfied with the texture.
Spread the mixture evenly throughout the fish. Sprinkle with breadcrumbs, and squeeze the juice of the lemon over the stuffed fish.
Lightly oil the BBQ grill rack and add the stuffed fish. Turn frequently until cooked thoroughly, approximately 20 minutes.
Alternatively, wrap in foil and bake in the pre-heated oven at 220oC/Fan 200oC/Gas mark 7 for 25-30 minutes. The fish is cooked thoroughly when reached 72oC and the flesh flakes easily with fork.
These are guidelines only, as cooking appliances vary.