Whisky peppercorn sauce is the perfect topping for our delicious rib eye steaks.
Steak with Whisky Peppercorn Sauce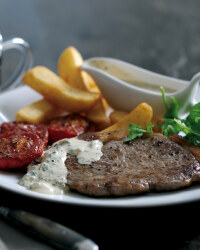 Recipe Information
Ingredients
For the Steak and Sauce
½ Small Onion, finely chopped
1 Beef Stock Cube
2 Small Glasses (150ml) Whisky
100ml Water
1 tbsp Whole Black Peppercorns, crushed
1 tbsp White Wine Vinegar
1 tbsp Dijon Mustard
1 Pot Parsley, chopped
250ml Double Cream
4 tbsp Vegetable Oil
4 Rib Eye Steaks
For the Tomatoes
6 Fresh Tomatoes, halved
2 tbsp Olive Oil
2 tbsp Balsamic Vinegar
Pinch Salt
Pinch Coarse Ground Black Pepper
Pinch Granulated Sugar
Find your ingredients online on Click & Collect or find your nearest store using our Store Finder.
Method
Pre-heat the oven to 180°C, gas mark 5.
Place the tomatoes into a baking tray, and then drizzle over the oil and the vinegar. Sprinkle with salt, pepper and sugar.
Place into the pre-heated oven and cook for 1 hour to let them dry out. Keep spooning over the oil and vinegar so they glaze nicely.
Next make the sauce by placing the onion, stock cube, whisky, water, peppercorns, vinegar and mustard into a saucepan.
Bring to the boil, then simmer until reduced by ¾, then add the parsley and the double cream, re-boil and remove from the heat. Season well with salt and pepper, then cover with cling film.
Meanwhile, pre-heat the grill or frying pan until nice and hot, add a little oil.
Season the steaks well with salt and pepper and grill or fry until the steak is to your liking.
This will take between 4-8 minutes on each side.
Once cooked remove from the pan and keep warm (rest) for 5 minutes.
Serve with the cooked oven chips and lots of rocket.
Aldi Wine Matches
Looking for the perfect wine match for this recipe? See below for our dedicated recommendations:
Lot 08 Colchagua Carménère 2012
Lot Series 10 Clare Coonawarra Cabernet