Healthy and delicious – add these spooky Strawberry Ghosts to the party menu.
Strawberry Ghosts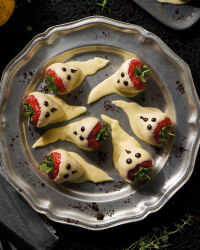 Recipe Information
Ingredients
12 Large Strawberries, rinsed and dried
150g White Chocolate
50g Dark Chocolate
Method
1. Melt the dark chocolate either in a glass bowl over a pan of hot water or in the microwave, stirring every 30 seconds to ensure it doesn't get too hot.
2. Using a spoon, drizzle the melted dark chocolate on greaseproof paper to create drops and lines which can be the ghosts' eyes and mouths.
3. Leave to harden.
4. Melt the white chocolate using the same method and dip the strawberries in, then place on greaseproof paper, dragging them a little to create the ghosts' tails.
5. Carefully place the eyes and mouth on the ghosts before the chocolate hardens.
6. Leave the strawberries in the fridge until ready to serve.