A healthy lighter option, our Super 6 salad is simple but delicious - and the tuna steak adds a great meaty texture.
Super 6 Salad with Tuna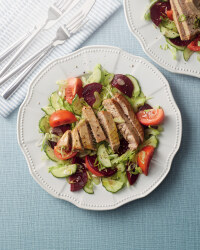 Recipe Information
Ingredients
4 sticks Celery
½ Iceberg lettuce
4 Salad Tomatoes
250g Cooked Beetroot
¼ Cucumber
½ bunch Spring Onions
1 x 400g pack The Fishmonger frozen Yellowfin Tuna Steaks
30ml British cold pressed Rapeseed Oil
Juice 1 lemon
Sea salt and black pepper
Find your ingredients online on Click & Collect or find your nearest store using our Store Finder.
Method
Defrost the tuna steaks.
Wash, trim and finely slice the celery.
Shred the lettuce.
Slice the cucumber lengthways then slice thinly.
Cut the tomatoes in 8 wedges.
Half the beetroot and cut into thin slices.
Wash, trim and thinly slice the spring onions.
Put the salad ingredients together in a large bowl.
Mix the lemon juice and oil in a small bowl, season with some salt and black pepper then whisk well.
Pour over the dressing and toss the salad.
Preheat the grill to high, put the tuna steaks on a baking tray then grill for 12/14 minutes turning as you cook.
Serve alongside the salad or flake the fish and scatter over the salad.