This rustic soup recipe is a brilliant blend of sweet potato, coconut and a medley of spices with a zesty kick.
Sweet Potato, Coconut & Coriander Soup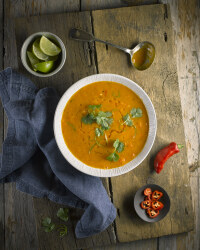 Recipe Information
Ingredients
3 tbsp Coconut Oil
1 Onion, peeled and finely chopped
1 clove of Garlic, peeled and crushed
800g Sweet Potato, peeled and diced
1 Pointed Red Pepper, deseeded and sliced
1.5lt Vegetable Stock (made from stock cube)
2 tbsp Sweet Chilli Sauce
3 tbsp Chopped Fresh Coriander
Freshly grated zest of a lime
Method
Heat 1 tbsp of the coconut oil in a large non stick pan and add the onion and garlic, stirring until the onion just begins to soften.
Add the sweet potato and sliced pepper.
Pour the stock over, stir in the chilli sauce and bring to the boil.
Cover and simmer for 25 minutes.
Blend with a hand-held wand blender or in a liquidiser until smooth.
Heat through again until piping hot and stir in 2 tbsp of the coriander.
Season to taste.
Divide between 4 serving bowls, warm the remaining coconut oil and drizzle a little over the top of each bowl along with a scattering of remaining coriander and the lime zest.
Serve warm.