An amazing one-tray tear and share loaf made with cheese, sunshine seeds and pesto.
Tear & Share Traybake Bread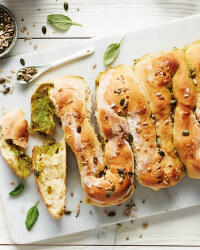 Recipe Information
Ingredients
800g Plain Flour
1 heaped tsp Salt
1 heaped tsp Bicarbonate of Soda
600ml Semi Skimmed Milk
70g Salted Butter
100g Pesto
2 x 215g Mozzarella Cheese
30g Sunshine Selection Seeds
Rapeseed Oil
Method
Pre-heat the oven to 200oC/400oF/Gas Mark 6.
Lightly grease a 30 x 25cm roasting tray with the oil. Drain the mozzarella from the water. Put the flour, salt and bicarb into a large mixing bowl and mix well.
Melt the butter and pour into the milk. Make a well in the centre of the flour and add the milk. Use your hands to mix until it all comes together.
Lightly dust a work surface with a little flour. Turn out the dough and knead for a few minutes until smooth. Cut the dough in half.
Stretch and pull out one of the pieces into a sausage shape about 70cm long, then pat out until about 10cm wide. Spread half the pesto over the dough. Shred one of the mozzarella balls and place this on top.
Roll the dough around the filling with the seam on the bottom, zig-zag the dough in the tray. Repeat with the other half of the dough and put this alongside the first batch in the tin.
Brush the top with a little milk and sprinkle on the seeds. Bake in the oven for 30-35 minutes until risen and golden.When tapped it should sound hollow.
Serve warm or cold.