Crisp bruschetta teams with tangy tomato to bring you this marvelous Mediterranean recipe.
Tomato Bruschetta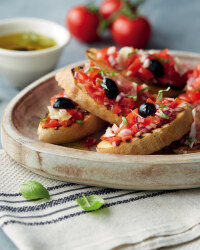 Recipe Information
Ingredients
150g Cocktail Vine Tomatoes
¼ Red Onion, peeled and finely chopped
Handful of fresh Basil Leaves, shredded
Salt and Black Pepper
1 x 2 pack Ciabatta Rolls
2 tbsp Extra Virgin Olive Oil
1 Garlic Clove, peeled
Toppings of your choice such as Olives, Parma Ham and Parmesan shavings
Find your ingredients online on Click & Collect or find your nearest store using our Store Finder.
Method
Halve the tomatoes, remove the seeds and chop the flesh into small dice.
Add the chopped onion, shredded basil leaves and seasoning.
Cut the ciabatta rolls on the diagonal into 1cm slices and either griddle or toast.
Brush one side of each with a little oil, cut the end off the clove of garlic and rub lightly over each toast.
Divide the tomato mixture between the toast and add your chosen topping.
Serve immediately.