This rustic Lamb recipe is a fantastic idea for evening meals.
Chef's Tip
The roasted garlic is great squeezed onto the crusty bread.
Tray Roasted Lamb Leg Steaks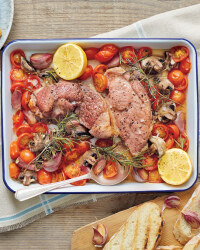 Recipe Information
Ingredients
1 pack British Lamb Leg Steaks
1 bulbs Garlic
½ pack Cherry Tomatoes
500g Jersey Royal Potatoes
100g Mushrooms
1 Lemon
3 sprigs Rosemary
Salt and Pepper
Olive Oil
Crusty Bread to serve
Find your ingredients online on Click & Collect or find your nearest store using our Store Finder.
Method
Pre-heat the oven to 180°C/350°F/Gas Mark 4.
Break the garlic into cloves and place in a baking the tray.
Cut the mushrooms and tomatoes in half and scatter in tray.
Cut the lemon in half and put in the tray.
Place the rosemary and lamb in the tray.
Drizzle olive oil all over the ingredients.
Season and bake for 30-40 minutes until the meat is cooked through.
Wash and boil the potatoes and serve with the lamb steaks and tray baked veg.