With golden syrup, ginger, and lemon.
Treacle Tart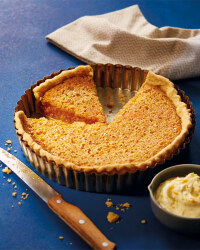 Recipe Information
Ingredients
1 x 375g pack Shortcrust Pastry
90g Fresh Breadcrumbs
430g Golden Syrup
½ tsp Ground Ginger
1 Lemon
1 x 20cm loose flan tin
Specially Selected Clotted Cream, to serve
Method
Line the tin with the pastry.
Use some crumbled tin foil to line the base and support the pastry on the sides then bake in the oven for 7 minutes.
Carefully remove the foil and bake for another 3 minutes to dry the base.
Allow to cool.
Grate the rind of the lemon and juice it.
In a bowl, mix the lemon rind, lemon juice, breadcrumbs, golden syrup and ground ginger together.
Pour into the baked pastry shell and bake in the oven for 25-30 minutes until just set.
Remove and serve hot or cold with the cream.