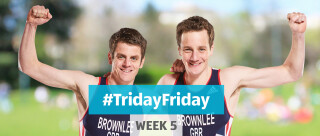 Give them the best summer ever
Kids love summer – no school, playing every single day – and we can help you make this summer their best ever, rain or shine, indoors or out. We've got some super cool things to make with cookie dough, a big favourite right now, and some hilarious activities to try like apple bobbing Vs welly wanging. Bring it on!

Try our fabulous new Chocolate Chip Cookie Dough in stores now! Get the kids involved this summer and try one of our three tasty new recipes, "The Pizookie" aka "the cookie pizza", Cookie & Ice Cream Sandwiches and Cookie Lollipops! Fun for all the family and hassle free.

Come rain or shine, there's always plenty to do with this week's Specialbuys. From packs of paper to fun child-friendly paints, you can keep them happy for hours and hours, indoors or out.

Entertain them all summer long
Plan ahead before they break up. Think picnics in the park and exciting things to make. Have 'craft-anoons' where you can do indoors activities when it rains and on sunny days, take everything out in the garden.
Don't miss our back to school event
Our famous school event is back – with amazing specialbuys including Aldi's great value school uniform! Instore from July 13th and available to pre-order online from the 6th, all at unbelievably low Aldi prices.

Welly Wanging VS Apple Bobbing
Try our Friday challenge. Jonny thinks welly wanging is the best activity for the back garden, whilst Alistair is a big fan of apple bobbing. But who wins? The only way to find out is to try them out with our very simple rules, telling you how to play and everything you need.
Jonny's Welly Wanging
You'll need a run up to get a good distance, so agree how many steps you can take before being disqualified, throw and get your tape measure out to see who's has gone the furthest.
Alistair's Apple Bobbing
A waist high tub with not too many apples in is best. You need to keep your hands behind your back while bobbing or you will be disqualified. First one to 'bob' an apple in 20 seconds wins!
Are you loving our #TridayFriday challenges?
If so – come find us on your favourite social media site and join the fun!
Don't miss out on the challenges so far! Take a look at week one, week two, week three and week four online now and let us know what you tri this summer! You can get all of our #TridayFriday recipes, activities and challenges here every week.