Leftover turkey meat in a creamy white wine, pancetta and Parmigiano sauce with rice and mangetout.
Turkey Carbonara with Rice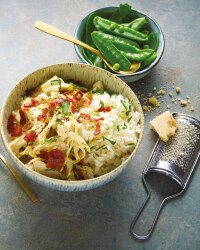 Recipe Information
Ingredients
450g Cooked Leftover Turkey Meat
80g pack Pancetta Strips
1 Chicken Stock Cube
300ml Double Cream
1 tsp Dijon Mustard
1 Large Onion, thinly sliced
35g Parmigiano, grated
1 tsp Paprika
120ml White Wine
20ml Lemon Juice
320g Long Grain Rice
150g Mangetout
25g Butter
15ml Olive Oil
Black Pepper
Method
Slice the pancetta into small pieces.
In a large frying pan or wok, melt the butter and olive oil and sauté the pancetta and onion until browned.
Add the white wine, cream, paprika, lemon juice, mustard, crumbled stock cube and season with some black pepper.
Add the Parmigiano to the pan and gently melt.
Cook the rice as per the instructions on the pack.
Cook the mangetout in some salted boiling water.
Add the turkey meat to the sauce and gently heat through.
Serve on a bed of rice alongside the mangetout.