A classic and classy risotto for any occasion.
Vegetable Risotto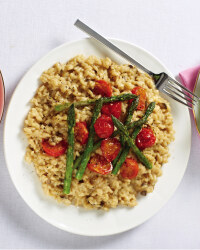 Recipe Information
Ingredients
1 x pack 250g pack Cucina Risotto with onion and garlic
1 x 338g San Carlos garlic bread
1 x 100g asparagus tips
200g cherry tomatoes
30ml specially selected extra virgin olive oil
1 x 200g bag Fresh Leaf salad
Black pepper
Specially Selected Parmigiano grated
Find your ingredients online on Click & Collect or find your nearest store using our Store Finder.
Method
Pre-heat the oven to 200°C/400°F/Gas Mark 6.
Cut the tomatoes in half and put into a small ovenproof dish, pour over the olive oil, season with black pepper and roast while you make the risotto.
Cook the Garlic bread in the oven, as instructions on the pack .
Make the risotto as instructions on the pack.
As you are making the risotto, cook the asparagus in some salted boiling water for 5 mins, drain and keep warm in the oven.
Serve the risotto in large pasta dishes, topped with tomatoes and asparagus, alongside the leaf salad, garlic bread and grated Parmigiano.