A super-healthy refreshing fruit smoothie, packed with berries. Perfect for a warm day.
Very Berry Smoothie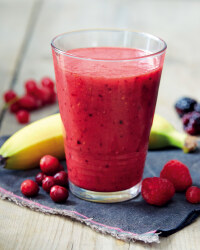 Recipe Information
Ingredients
130g Four Seasons Frozen Summer Fruits, defrosted
1 Banana
100ml Cranberry Juice
15ml The Pantry Lemon Juice
Find your ingredients online on Click & Collect or find your nearest store using our Store Finder.
Method
Chop up all of the fruit, then place in a blender with all the other ingredients.
Blend until smooth and serve immediately.