Mini waffles with sliced bananas, Greek yogurt and chocolate hazelnut sauce.
Waffles with Banana and Chocolate Hazelnut Drizzle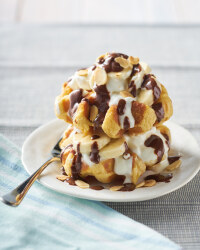 Recipe Information
Ingredients
8 Belgian Sugar Waffles
4 Bananas
100g Greek Yogurt
160g Hazelnut Chocolate Spread
Flaked Almonds
Method
Pre-heat the oven to 180°C/350°F/Gas Mark 4.
Put the waffles on a baking tray in a single layer and heat through for 6 to 7 minutes – until hot.
Peel and slice the bananas. Mix with the yogurt.
Put the chocolate spread into a microwavable jug and cover with cling film.
Heat on medium for 1-2 minutes until liquid and warm.
To assemble the waffles, put four waffles on plates, top them with half the banana mixture, top that with another waffle.
Drizzle over the chocolate spread, sprinkle with some flaked almonds and serve.