These succulent Wagyu burgers taste delicious with homemade baked potato wedges.
Wagyu Beef Burgers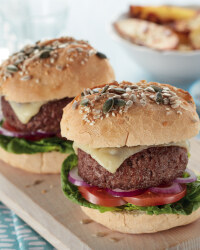 Recipe Information
Ingredients
2 x packs 2 Specially Selected Wagyu burgers
4 x Sunnyhills seeded rolls
½ little gem lettuce
2 x salad tomatoes
1 x medium red onion
4 x slices mature lighter cheddar cheese
3 x baking potatoes
25ml Sunflower oil
Find your ingredients online on Click & Collect or find your nearest store using our Store Finder.
Method
Preheat the oven to 200°c/400°f/gas 6.
Slice the potatoes into wedges.
In a bowl toss them in the oil.
Put on a baking sheet and roast for 45 mins.
Slice the tomatoes.
Peel and thinly slice the red onion.
Pull the leaves apart from the lettuce – wash and dry.
Cut the rolls in half.
Griddle or grill the burgers – about 4/5 mins each side.
Toast the cut sides of the roll.
Assemble the rolls.
Divide the lettuce, tomato and red onion between the buns, top with a burger, then a slice of cheese, the top with the burger lid.
Serve alongside the potato wedges.