Warm Upside Down Apple Cake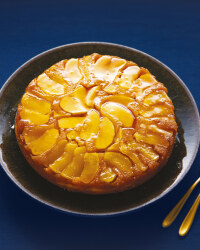 Recipe Information
Ingredients
2 Apples
60g Unsalted Butter
70g Brown Sugar
½ tsp Ground Cinnamon
2 Medium Eggs
110g Unsalted Butter
110g Self Raising Flour
110g Caster Sugar
½ tsp Ground Cinnamon
1 tbsp Milk
7" Cake Tin
Method
Pre-heat the oven to 180°C/350°F/Gas Mark 4.
Melt the butter, sugar and cinnamon together until combined and pour into the tin.
Peel and slice the apples and place on top of the caramel in the tin.
Beat the rest of the ingredients together until smooth and then cover the apples.
Bake for 30-40 minutes until the cake springs back when pressed.