Another super foodie gift idea with a festive kick that's oh-so-easy to make.
Whisky Potted Cheese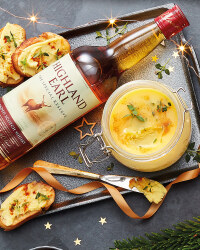 Recipe Information
Ingredients
400g Mature Cheddar Cheese
275g Butter
2 tbsp Highland Earl Whisky
1 ½ tsp English Mustard
½ tsp Paprika
Fresh Thyme Sprigs
Method
Place the cheese, 200g of the butter, whisky and English mustard in a food processor (you may need to do this in batches depending on your food processor size). Blitz the mixture until creamy and smooth. Divide between 2 clean Kilner jars and make sure to pack the mixture in and smooth the tops.
Melt the remaining butter and pour over the top of the jars covering all the cheese mixture. Top with a sprig of thyme and a pinch of paprika, then seal and leave to chill in the fridge. Store in the fridge until ready to eat and consume within 1 week of breaking the butter top. Serve alongside a cheeseboard or on toast.