This easy-to-make celery and leek soup is a great comfort food for chilly evenings.
Celery and Leek Soup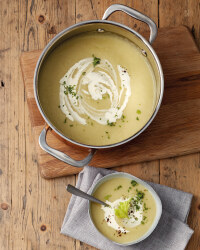 Recipe Information
Ingredients
1 Pack Celery Approx. 450g
1 Large Leek
1 Large Mild Onion
400g White Potatoes
2 Quixo Vegetable Stock Cubes
1200ml Boiling Water
100ml Cowbelle Reduced Fat Crème Fraîche
Sea Salt and Black Pepper
20ml Extra Virgin Olive Oil
Find your ingredients online on Click & Collect or find your nearest store using our Store Finder.
Method
Wash and chop the celery.
Wash and chop the leek.
Peel the potato and cut into small chunks.
Peel, half and finely chop the onion.
In a large saucepan sauté the onion in the oil for a few minutes over a low heat.
Add the leeks, celery and potato to the pan and cook, stirring for a few minutes.
Pour over the boiling water then crumble in the stock cubes.
Bring back to the boil, season with a little salt and plenty of black pepper.
Cover and simmer for 25 minutes.
Liquidise the soup and return to the pan.
Add the crème fraîche, reheat gently and serve.