A wonderfully warming option for lunch, this broccoli and cheese soup is delicious and healthy in equal measure.
Cheddar Cheese and Broccoli Soup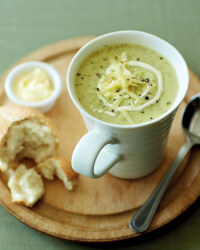 Recipe Information
Ingredients
190g British Medium Cheddar
25g Butter
1 Medium Onion - chopped
1 Bunch Fresh Broccoli
150g Potatoes - peeled
1 Vegetable Stock Cube
800ml Water
300ml Cowbelle Single cream
Salt and Black Pepper
Find your ingredients online on Click & Collect or find your nearest store using our Store Finder.
Method
Melt the butter in a large saucepan, add the onion and sauté until soft, chop up the broccoli and the potato and add to the pan, cook stirring for a few minutes.
Add the water and the stock cube, season with salt and pepper, bring to the boil, cover with a lid and simmer for about 20/30 minutes until the vegetables are tender.
Liquidise the soup, add the cream, check the seasoning and then stir in the grated cheese, cook gently until the cheese has melted, serve alongside baked Sunnyhills dinner rolls.