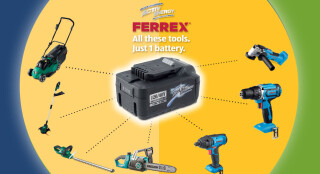 All these cordless power tools. One interchangeable battery!
Enjoy the simple way to cut the cost of cordless power tools with our new interchangeable battery system! From lawn mower to angle grinder, one battery and one charger is all you need! Simply charge your battery and slot it into your chosen tool. You should only need to buy the battery and charger once, so you can keep adding tools to your selection without having to pay extra hidden costs for the power system!
Battery and Charger
We have a great selection of quality cordless garden and DIY tools that all run on interchangeable batteries. So, with 1 Charger and either a 20V or a 20/40V Battery, you can run any number of the appropriate voltage tools without buying extra batteries.
Powerful value on cordless tools
We've a great selection of garden and DIY tools at amazing value for money prices, so you can make the most of your garden and tackle those DIY jobs like a pro.
Cordless Lawn Mower
Ideal for small and medium-sized lawns up to 250m2, this versatile lawn mower has a generous runtime of approx. 30 minutes. With 6 adjustable cutting levels, height adjustable handle and collection box with level indicator it makes mowing a breeze.
Cordless Lawn Trimmer
A simple way to cut fine or coarse grass to keep your lawn neat and tidy. Its adjustable head and handle ensures you can work at a comfortable height, and deal with obstacles such as benches without worrying about a power cord getting in the way.
20V Hedge Trimmer
With its ergonomic, multi-position front handle, this powerful trimmer's dual-action laser cut blade can tackle branches up to approx. 14mm thick with ease. And as it's cordless, it means you can tackle your hedges from any angle.