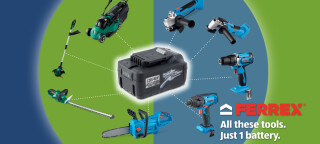 All these cordless power tools. One interchangeable battery!
Enjoy the simple way to cut the cost of cordless power tools with our new interchangeable battery system! From lawn mower to angle grinder, one battery and one charger is all you need! Simply charge your battery and slot it into your chosen tool. You should only need to buy the battery and charger once, so you can keep adding tools to your selection without having to pay extra hidden costs for the power system!
Interchangeable Battery
At both 20v and 40v our battery gives you everything you'll need to power all of the tools in the range. Both batteries fit into the same charger so you will only need to buy it once, and at just £15, that's amazing value!
The eight tools in our range, and counting…
From lawn mower to chainsaw, or angle grinder to drill, one battery and one charger are all you need to power these!
Smaller garden? Why pay full price?
As well as our one fits all 20V/40V battery, we also have a £15 20V battery for those with smaller spaces and no need for larger tools so that you don't have to spend on space you don't have.


Shop all your garden needs
††The 20/40V Battery will power both 20V and 40V FERREX cordless tools.
†The 20V Battery can power the FERREX 20V Cordless Drill, Multifunctional Tool, Impact Driver, Hedge Trimmer and Grass Trimmer only.
§Cordless Tools, Batteries and Chargers sold separately. Bundle price of £50 includes 20V Battery, Charger and 20V Cordless Trimmer, Drill or Impact Driver