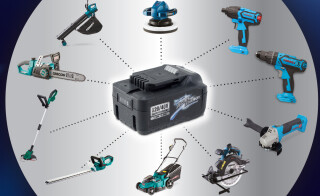 All these cordless power tools. One interchangeable battery!
Our Ferrex Activ Energy range is designed to make DIY easier for everyone. Whether you're mowing the grass, cutting your hedges or putting up shelves, the Activ Energy battery slots into all your tools, so you only need to buy one and you're good to go. And when you buy new tools, it will work with them too. No hidden costs, no extra hassle. Simply charge it, click it in and get to work.
Just 1 battery
It's true, you only need 1 battery for all your tools, but there are 2 batteries to choose from. Pick the Max 20/40V or the Max 20V, and you'll need the charger too. But that's it, just one purchase and your Activ Energy Ferrex tools are powered.
Powerful value on cordless tools
We've a great selection of garden and DIY tools at amazing value for money prices, so you can make the most of your garden and tackle those DIY jobs like a pro.
Circular Saw
Make quick cuts with laser precision. Our 40V Cordless Circular Saw Skin gives you amazing power and accuracy when it comes to DIY. Includes LED lights, laser and speeds between 0-4000rpm. Works with the Activ Energy power pack.
Rotary Hammer
You get precision, power and control with our 20V Cordless Rotary Hammer Drill. Perfect for working with wood, steel or concrete and comes with soft grip, quick stop and rotary speed regulation. Works with the Activ Energy power pack.
Cordless Polisher
Get your painted metal sheets shining with our 20V random orbital polisher. It polishes and waxes with no-load speed 3000rpm, a hard grip and 2 handles for steady control. Works with the Activ Energy power pack.
Cordless Jigsaw
Handheld, full powered 20V jigsaw that cuts through wood, metal and plastic with ease. Includes electric speed adjustment, dust blower and 100mm saw blade just for wood. Works with the Activ Energy power pack.