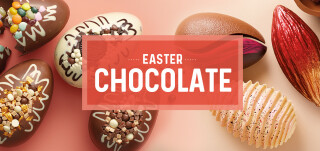 Hunting for eggs?
It's easy to get excited for Easter with all the amazing chocolate Easter eggs and treats waiting for us. Unfortunately, Easter is still some time away so you're going to have to wait a little longer. But, because every year we make our collection of luxury eggs, children's Easter eggs and branded eggs even bigger, better and more beautiful, it will all be worth the wait come 12th April 2020. See you then!
Choose your chocolate
Our sustainable range of chocolate includes exciting new tastes to discover and Free From selections to suit most diets.
UTZ is certified chocolate made with cocoa that's sustainably farmed and sourced in a way that is fair to farmers.

Our no added sugar chocolate eggs ensure that everyone can enjoy amazing Easter treats

Ruby Chocolate is the 4th discovered variety of chocolate behind milk, dark and white.

Pick up an alternative to chocolate with our collection of plush toys and gifts.
Egg hunt family fun
Everyone loves an egg hunt! Come back at Easter and we'll show you how to make yours amazing.
Children in Charge!
Watch our kid chefs make amazing snacks in the Junior Taste Kitchen! Follow the fun and make them at home with your little ones.
Amazing recipes
We love making fun new Easter recipes for parents and children to enjoy together, like chocolate rocky road, or hot cross bun pudding. Check back closer to Easter 2020 for more tasty inspirations to try