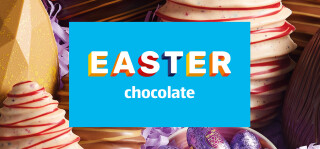 Let's have a choctastic Easter
For most of us, indulging in some extra delicious chocolate is allowed at Easter. That's why we've got another incredible selection of Easter eggs and treats in store. From handcrafted luxury chocolate gifts to free from treats and yummy chocolate bunnies. Not forgetting those all-important kits for the Easter Egg Hunt.
It's eggs galore in store
Find all your favourite branded eggs in your local Aldi this Easter. Fill your Easter basket with amazing value, free from fun treats and spoil them with one of their favourite plush toys. Get yours before they're gone.

Egg-citing prices on Easter treats
Our chocolates, games and prizes are just what your back garden Easter adventures need. Fill your baskets with exciting flavours and creative chocolate treats for your family egg hunts, including Easter Mug Melts and Giant Bunnies.
Clever ways to use up leftover chocolate
Melt it down, mix it in, mash it up and grate it on. Here are 3 epic chocolate recipes you just have to try!