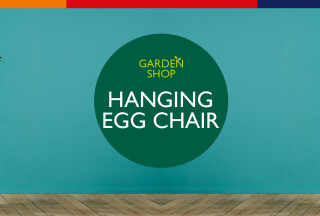 Enjoy comfort and style with a Rattan Hanging Egg Chair
Stylish, affordable and seriously cosy, this amazing rattan effect hanging egg chair is a fantastic addition to your garden, yard, decking or porch this summer. Whether you want to be in the sunshine, or relaxing in the shade, this versatile hanging egg chair can be transported until you find the perfect summer spot.
From reading, to sipping an ice-cold drink, or simply slowly swinging listening to the sounds around you as you unwind, this egg chair is the perfect way to get snug in style! This rattan effect egg chair will be delivered straight to your door, taking away all the hassle! At amazing value, providing style and comfort, we're sure you're going to want to bag the best seat in the house!
Large Hanging Egg Chair
Create a stunning statement in your garden with our timeless large hanging egg chair.Due to unprecedented demand, the Large Egg Chairs are limited to 1 per person. Due to limited stock availability, WHEN IT'S GONE IT'S GONE!

SOLD OUT
Hanging Egg Chair
Add a touch of style to your indoor and outdoor spaces with our timeless rattan hanging egg chair. Its strong frame and soft cushions allow you to relax comfortably for hours anywhere you choose.

SOLD OUT
Sit back and savour something special
Complete the perfect afternoon in your garden with a wonderful bottle from our collection. You'll find all the fizz, spirits and wine you love, along with some new exciting tastes to try too. Order a mixed case online and we'll deliver them straight to your door.
Shop all your garden needs