Creamy, zingy and delightfully aromatic – this is chicken dinner at its best.
Louisa Shepherd's Chicken Paprika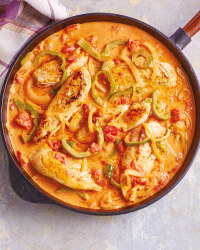 Recipe Information
Ingredients
4 x Chicken Breast Fillets
1 x large Red Onion
1 x Green Pepper
Juice of ½ Lemon
Half 400g tin Chopped Tomatoes
150ml Single Cream
12g Paprika
15ml Olive Oil
1 x Chicken Stock Cube
100ml Boiling Water
Sea Salt and Black Pepper
Method
Halve the chicken breasts lengthways.
In a large frying pan, melt the oil and sauté the chicken on both sides until lightly browned.
Now peel the onion, halve and thinly slice.
Halve the pepper and remove any seeds and white pith, then thinly slice. Add to the pan and gently sauté until soft.
Next, add the water, crumbled stock cube, tomatoes and paprika and cook, stirring for 8 minutes.
Add the cream, lemon juice and salt and pepper seasoning and continue to cook for another few minutes.