Sweet, refreshing and bursting with fruity flavour.
Non-Alcoholic Tutti Frutti Punch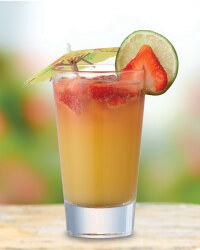 Recipe Information
Ingredients
450g Strawberries
170ml Rio D'Oro Pineapple Juice
85ml Rio D'Oro Apple Juice
85ml Rio D'Oro Orange Juice
1½ Cups Water
85ml Soda Water
Find your ingredients online on Click & Collect or find your nearest store using our Store Finder.
Method
Use a blender to combine the fruit and juices.
Mix with the water in a large jug, cover and chill.
When ready to serve, add the soda water, mix and serve.